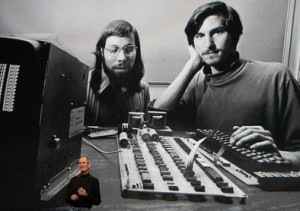 Apple CEO Steve Jobs has died aged 56. The technology company announced this on Wednesday evening.
Jobs resigned from his position as CEO of Apple in August because he would no longer be able to perform his duties. The CEO had been struggling with serious health problems for a long time. In 2009 he underwent a liver transplant while on a long sick leave. In 2004 he was already treated for pancreatic cancer.
Apple calls Jobs "a visionary and a creative genius" on the companys website. "Steve leaves behind a company that only he could have built, and his spirit will always remain the foundation of Apple."
Innovators
US President Barack Obama said in a response that Steve Jobs is "one of America's greatest innovators".
He changed our lives, turned an entire industry upside down and made everyone see the world differently."
iSad
From New York to Australia, fans take to the stores and websites to leave messages of tribute. Some say they are "iSad". All kinds of IT companies pay tribute. Search company Google has placed a link on its site to the Apple site about the death of Jobs. The American founded Apple in 1976 with two colleagues. He left the company in 1985, after which he was involved in the founding of technology company NeXT Computer and film studio Pixar.
In 1996 he returned to the then ailing Apple, which he revived with the introduction of many new products. He pioneered widely used products such as Apple Macintosh computers, the iPod, the iPhone and the iPad, making Apple one of the richest companies in the world. Earlier this week, Jobs' successor Tim Cook presented the iPhone 4s, the latest version of the highly successful smartphone that Apple introduced under Jobs' leadership. Jobs leaves behind a wife and four children.